Product Detail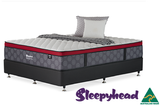 BIENNE PREMIUM - MEDIUM MATTRESS - SWISSTEK - QUEEN
$4,399.00
Description
SWISSTEK: POCKETCOIL
Relieves pressure sensitive points, evenly distributes your weight and aligns your spine.
DREAMFOAM
High density unique foam structure with a firm feel provides extra support and luxurious comfort.
BAMBOO + SILVERLINE
Premium soft knit fabric with naturally breathable bamboo fibres and anti-bacterial Silverline for a healthy sleep.
FIBRE: NUVOLE
Nuvole pure comfort fibres have excellent cushioning properties while releasing humidity to let your body breathe freely and eliminate 'hot spots.
FUSIONGEL+
A responsive comfort layer which improves heat dissipation, resilience and provides added support.
COMFORT EDGE
Solid foam edge provides support right to the edge of the mattress which reduces the roll out feeling.
BIENNE
MEDIUM
All SwissTek® mattresses feature seven dedicated
posture zones, so that optimal support is delivered
to every part of your body as you sleep. Each zone
has a different level of flexibility so it can respond to
your body as it needs to.
Sign Up for our newsletter