Product Detail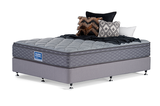 BIXBY MIRACOIL CLASSIC - PLUSH MATTRESS - SLEEPMAKER - QUEEN
$1,399.00
Description
MIRACOIL
Strengthened z-shaped continuous coil support system designed to reduce back stress.
DREAMFOAM
Soft density unique foam structure with a plush feel provides extra support and luxurious comfort.
ULTRA-FRESH
Comfort layer foams are treated with Ultra-fresh antimicrobials to help keep products fresh, hygienic, and odour free.
CLIMATEX QUILT
The dream sleep surface. High loft fibre gives bounce back between two layers of superior dream foam – breathable, cooling and with minimal wear.
BIXBY MIRACOIL 
CLASSIC
For consistent, even body support throughout the
night, the continuous coil design of Miracoil has
no equal.
Sign Up for our newsletter