Product Detail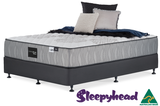 COMFORT FOR YOU - FIRM MATTRESS - SLEEPYHEAD - QUEEN
$2,349.00
Description
FIBRE: SILK
Lustrous natural silk helps improve airflow and breathability in the mattress.
DREAMFOAM
High density unique foam structure with a firm feel provides extra support and luxurious comfort.
ULTRA-FRESH
Comfort layer foams are treated with Ultra-fresh antimicrobials to help keep products fresh, hygienic, and odour free.
FUSIONGEL+
A responsive comfort layer which improves heat dissipation, resilience and provides added support.
COMFORT EDGE
Solid foam edge provides support right to the edge of the mattress which reduces the roll out feeling.
POCKET COIL
Individually wrapped 5-zoned coils adjust independently to the weight and contour of your body while minimising partner disturbance.
COMFORT FOR YOU
FIRM
Featuring a 5 zone pocket coil spring system that
cradles to the bodies contours, aiding spinal
alignment while minimizing the effects of partner
disturbance.
Sign Up for our newsletter