Product Detail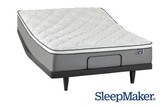 SLEEPMAKER DELTA DREAM ADJUSTABLE BASE (MI LIFE 600)- LONG SINGLE
$3,099.00
Description
EASIER BREATHING
Delta range gives you the ability to get comfortable in a position that feels more natural to sleep in at night and helps promote easier breathing.
CUSTOMISED SUPPORT
Using this base with a compatible mattress helps relieve pressure and support you in all the right places.
ADJUSTABLE MATTRESS
This mattress is designed with the flexibility to rest on an adjustable base.
HELPS CIRCULATION
Allows you to lie in bed with a slight elevation. Something you can't get with a flat and inflexible mattress!
'ZERO GRAVITY' POSITION
Designed with ergonomics in mind to help with better sleep and improved circulation through a zero gravity position.
SLEEPMAKER DELTA DREAM ADJUSTABLE BASE
Base Features
Using a Delta base with a compatible mattress provides customisable support, helps relieve pressure and aid in supporting your body in the right areas where its needed the most.
This base can help you with better circulation by elevating your body, provide great ergonomics to help with better sleep. Overall it's a base that helps and encourage better rest through a 'zero gravity' position.
Comfort Control in Your Hands
With the touch of a button you can control your Delta bed with a multitude of pre set positions, including a customisable memory pre set mode, upper and lower body massage modes and even illumination functionality.
10 Year Hassle Free and Parts Warranty
Your entire adjustable base is warranted by the manufacturer against defects in materials and workmanship for a period of 10 years.
NB: Massage feature included in Delta Cloud remote only.
Sign Up for our newsletter