Product Detail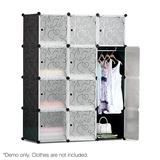 DIY STORAGE - 12 CUBE - BLACK
$79.00
Description
Looking for a portable wardrobe?
This is the ideal solution for your room.
Designed with 2 hanging spaces and storage cubes, you can choose to either hang or fold your clothes.
With each 46cm x 36cm cube, it can store plenty of folded clothing in there nicely and tidily.
For your convenience, it can be stacked into different combinations as well to fit your room space. Don't need hanging? well just convert to 12 storage cubes.
Sign Up for our newsletter