Product Detail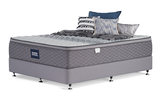 MILLAU MIRACOIL ADVANCE 5 - FIRM MATTRESS - SLEEPMAKER - QUEEN
$3,249.00
Description
MIRACOIL ADVANCE
Outstanding Continuous Support for all shapes and sizes. The head-to-toe construction assists to reduce partner disturbance while the graduated 5 Zone design actively cradles the hip and shoulder region to help align the spine.
DREAMFOAM
High density unique foam structure with a firm feel provides extra support and luxurious comfort.
ULTRA-FRESH
Comfort layer foams are treated with Ultra-fresh antimicrobials to help keep products fresh, hygienic, and odour free.
CLIMATEX QUILT
The dream sleep surface. High loft fibre gives bounce back between two layers of superior dream foam – breathable, cooling and with minimal wear.
FUSIONGEL+
A responsive comfort layer which improves heat dissipation, resilience and provides added support.
COMFORT EDGE
Solid foam edge provides support right to the edge of the mattress which reduces the roll out feeling.
CHIRO ENDORSED
The sleepmaker Miracoil range carries the endorsement from the Sports Chiropractic Association.
MILLAU MIRACOIL 
ADVANCE 5
Combines super-strength 2.3mm gauge z-shaped coils
and SleepMaker's graduated five-zone system that provides
support exactly where your body needs it the most. Gently
cradles your hips and shoulders, while also helping to provide
optimal spinal alignment. Ideal for anyone wanting a bed that
does it all, including those weighing more than 120kg.
Sign Up for our newsletter